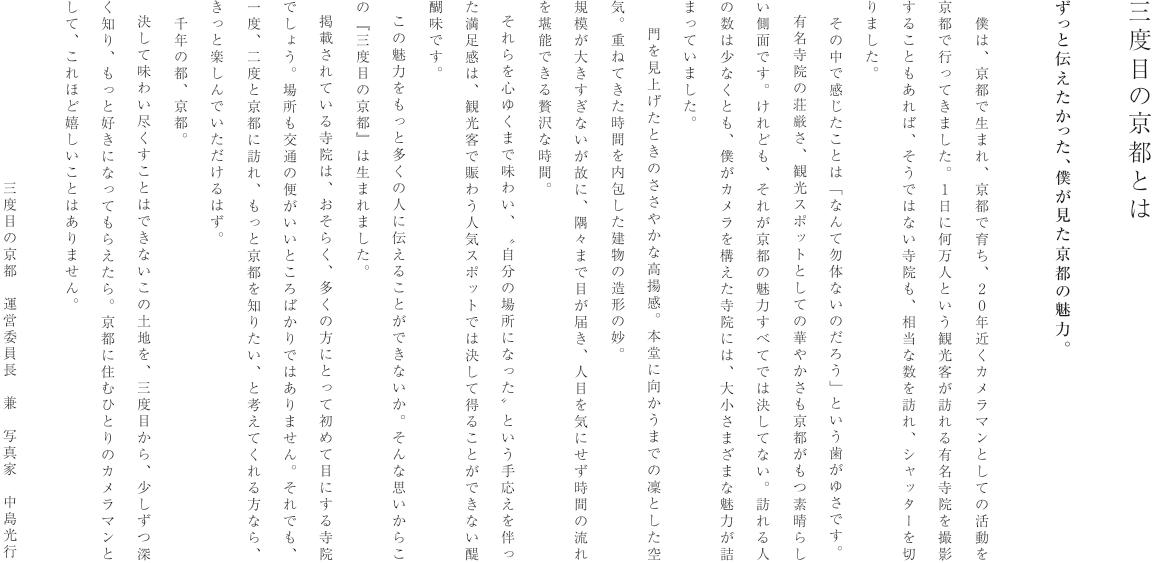 The wonders of Kyoto that I have hoped to convey.
I was born and raised in Kyoto, and have been working here as a photographer for nearly 20 years. I have visited and photographed a considerable number of temples, from famous ones visited by tens of thousands of tourists every day to ones that are quiet and deserted. Throughout the course of my work in Kyoto, I have come to realize that many tourists may be missing Kyoto's hidden charms. This has become a source of frustration for me.
While the solemnity of well-known temples and the beauty of its sightseeing attractions is certainly one side of Kyoto's beauty, there is so much more.
Though they may only have a small number of visitors, the temples on which I have focused are filled with all kinds of charms.
Looking up at the gate, you feel a little uplift in your spirit.
Walking to the main hall, you bask in the dignified atmosphere.
Entering the hall, you are enveloped by the wonder of these manmade buildings and their long histories.
Since I have chosen to feature only small temples, you could savor every moment you spend there without concern for other visitors.
Allow yourself to take in all of the sights around you, and you will be filled with a sense of contentment, along with a sort of confidence that makes you feel the temples are your own. It's a true pleasure that you can never experience at a typical tourist attraction.
I hope that more people will discover these real charms and pleasures.
This is the earnest wish with which I have launched "Third Trip to Kyoto".
Many visitors will probably see the temples on this website for the first time. Some temples are not easily accessible.
However, if you have visited Kyoto once or twice, and wanted to know more about it, you will surely enjoy my collection.
Kyoto, the ancient capital with a millennium's worth of history.
Although it may be difficult to fully experience Kyoto's personality, I hope tourists will further their knowledge and love of Kyoto, starting with their third visit.
As a Kyoto-based photographer, nothing would make me happier.
Director and Photographer of Third Trip to Kyoto
Mitsuyuki Nakajima